Welcome to our latest blog – Can Anyone Use a Defibrillator?
Is it true?  Can anyone use a defibrillator?  We get asked this question a lot on our first aid courses.   Indeed anyone can use a defibrillator and you do not need to have first aid training to use them.   Read on to understand more about defibrillators…
Defibrillators are easy to use and no training is required.  Once the defibrillator is collected from the location the emergency services have specified, you simply switch it on listen to the instructions.  All defibrillators have the same mechanisms; on button, shock button, battery window to explain how much battery is remaining and a diagram on where the pads go.   (Some Defibrillators are automated and may not need to be manually switched on – See video link below).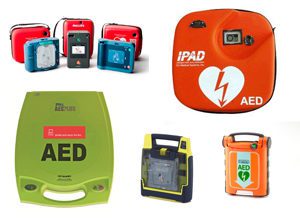 Why are defibrillators everywhere?
Defibrillators saves lives.  Only performing CPR, the casualty only has 10% chance of survival.  So why do we do CPR?  CPR will help circulate the oxygen and blood flow to the organs and keep the brain alive.  Using a defibrillator and with performing CPR it increases the chance of survival by 70%.   Defibrillators can be found and are available in public places such as Supermarkets, Community Centres, Gyms, Post Offices, Churches, Airports or leisure Centres.
How to Use a Defibrillator!
Anyone can use a Defibrillator, here is a step by step guide on how:
Complete DR ABC survey by Checking; Dangers, Response, Airways and Breathing.  If the casualty is not breathing you will need to Call 999. Start Compression's as soon as you can.
Call 999 and ask for a Defibrillator.  If you are with someone, they will be told by 999 call handler where the local Defibrillator is to you and the code to open it.
If you are on your own STAY with the casualty, continue with CPR and wait for the ambulance to arrive with the defibrillator.
Switch the defibrillator on as soon as it arrives.  Follow the instructions.
Continue with CPR and following the instructions from the Defibrillator.  Await for the ambulance to arrive.
Here is a video on how Defibrillator works;
https://www.youtube.com/watch?v=UFvL7wTFzl0
Here at HMB Training Services, we are very passionate in spreading the awareness on how Defibrillators work.  We have opened up a petition to get awareness on how to use a defibrillator on a TV advert.  We would appreciate if you can sign the petition to enable discussions in Parliament to happen.  Feel free to share the petition with your friends or family.  10,000 signatures are required, and this will help us spread the message 'Can anyone use a defibrillator'.
https://petition.parliament.uk/petitions/232021
If you would like more information on our courses, or would like advice on buying a Defibrillator we can help.  Please feel free to call us on 01543 453338 or 07506 906641.  Alternatively email us on info@hmbtrainingservices.co.uk.