Mental Health First Aid in the Workplace
Mental Health First Aid is very much spoken about within the media, with awareness is now on the increase.
Read on to understand what Mental Health First Aid is all about, why it is important to be mental health aware and what is involved in our mental health first aid courses.  
What is Mental Health?
Mental Health is the persons well being and their state of mind.  Mental Health affects how we think, act and feel.  It is how we handle stress, relate to others and make choices.  When we are thinking about Mental Health First Aid, we need to have a understanding on mental health illness which covers a broad range of mental health problems.  It can involve changes to our thoughts, emotions, behaviours and relationships with others.  Mental health illness can become serious which causes distress, and problems functioning in our day to day lives.
Why do I need to be Mental Health Aware?
With Mental Health on the increase, and there is stigma surrounding mental health.  It is important to be mental health aware to understand stigma and mental health conditions.  Suicide is important to understand and know the signs if anyone is having suicidal thoughts.  According to Samaritans, in 2017, 5,821 suicides were registered in the UK, and the highest suicide rate in the UK was for men aged 45-49.
Here is statistics around Mental Health:
1 in 10 children aged 5-16 have a diagnosis mental health condition
Half of all mental health problems are established by the age of 14
Poor mental health carries an economic and social cost of £105 billion a year.
Mental Health support and services across Government departments in England total £34 billion a year.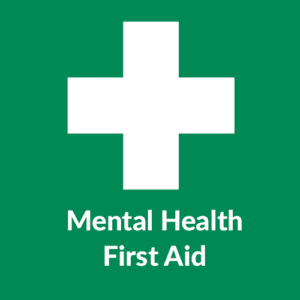 What Do I learn on a Mental Health First Aid Course?
On our courses you will have; an awareness what is mental health first aid, understand mental health illness, Depression and Stress and how to signpost and have a conversation with someone with mental health.
On our Level 2 course, you will cover Level 1 plus, you will be able to complete a First Aid action plan for Mental Health and more awareness on how mental health illness and conditions and how to sign post someone with mental health.
On our Supervising Mental Health First Aid Courses, you will have an understanding on Mental Health First Aid and illnesses, understanding and identifying mental health conditions, how to complete a First Aid Action Plan for Mental Health, how to talk and sign post someone with mental health, and understanding Suicide.
Here is more information about our Mental Health First Aid Level three courses;  https://www.hmbtrainingservices.co.uk/latest-news/offer/level-3-supervising-first-aid-for-mental-health
Would you like more information on our Mental Health First Aid Courses or to book your course with us, please call us on 01543 453338, or email us on info@hmbtrainingservices.co.uk.