Everyday wheeled laptop bag for teachers
Are you trying to look for that ideal bag to fit your class resources while looking for a solution to store your laptop for safe carriage?  Look no further this everyday wheeled laptop bag is for you.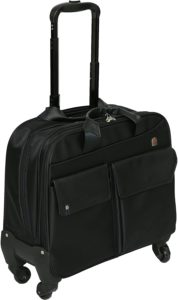 As a first aid trainer I don't usually write about items; it is usually about first aid, health and safety or mental health.  But my back was suffering with the amount of stuff I was carrying.  I mean stuff, my laptop; I was scared my laptop would be damaged in my Aldi – bag for life.
Poor Manual Handling – Back Injuries
47% of back injuries result in poor manual handling, and I didn't want to be a part of that percentage.
While teaching manual handling I realised I was preaching that you should NOT be carrying anything, always try to avoid manual lifting.  Which made me think, my laptop bag should have wheels not just handles. It was embarrassing taking the Aldi bag for life to training sessions – it also looked unprofessional.
That's when I started searching the big wide web for an everyday wheeled laptop bag. I'm not a fussy person, but this bag had to tick a lot of boxes.  It should be able to hold; laptop, leads, pens, felt tips, paper, learner books, assessment paperwork, bandages and first aid manuals.  It should have reliable wheels, sturdy case and enough compartments especially suitable for my laptop.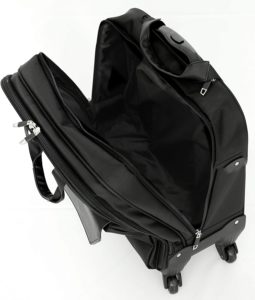 I was so delighted when I came across this bag. The bag needed to be cost effective, have separate compartments for the laptop and main compartment for paperwork, books and pens.  It needed to have four wheels to pull with ease and have great reviews! Perfect everyday wheeled laptop bag for me! Get Yours Here!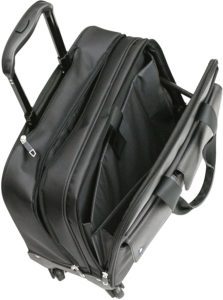 The laptop bags front compartment features 16″ padded laptop section with hook and loop closures retaining strap and A4 filing section, Large main compartment for overnight and filing stowage.
It has 2 flap-over pockets on front of the case, larger one features pen and media slots.
I find this everyday wheeled laptop bag is great to fit everything I just need to get me through my teaching day!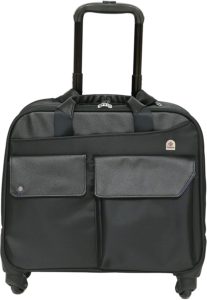 Are you worried?
Picking up a box incorrectly can result in back injury.  If you want further education into how to pick up a box or heavy item correctly; then our Manual Handling course is for you.  What is more you can complete online at a pace convenient to you.  Book you place here: https://www.hmbtrainingservices.co.uk/latest-news/offer/faa-level-2-award-manual-handling-principles-practice-qcf